Date: Saturday, August 13th, 2022
Time: 8 PM
Location: Tate Student Center
Kick off the semester with some amazing activities held both inside and outside of the Tate Student Center!. Activities include a DJ music foam party, games, 360° picture booths, free movies, and dessert trucks. Come connect with fellow students, have fun, and create memories!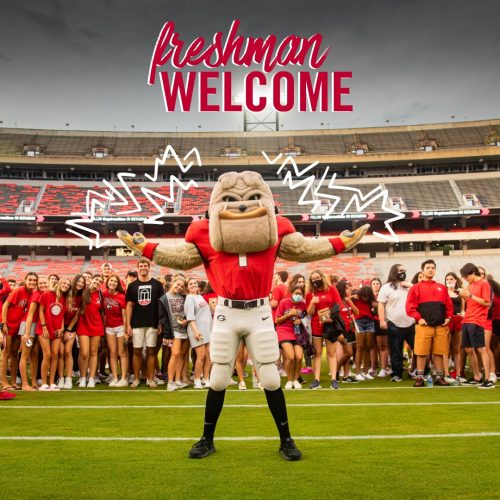 Date: Tuesday, August 16th, 2022
Time: 6 PM
Location: Sanford Stadium
Calling all new students, both freshmen and transfer! Gather Between the Hedges® at Sanford Stadium to hear welcome words from President Morehead and other campus leaders, learn and practice athletics cheers led by the Redcoat Band, and form the Super G on the field for your official class photo!
Date: Wednesday, August 17
Time: 3-5 PM 
Location: Sanford Stadium – West End Zone
Calling all incoming transfer students. Join the Office of the President and the Department of Student Transitions at the Transfer Student Welcome.
In addition to meeting fellow transfer students, attendees will have the opportunity to enjoy some free food, discover ways to get involved, learn about campus resources, and snap a picture with Hairy Dawg™. Participants will also have the chance to win a free custom UGA football jersey. Register by completing this form!
Date: Tuesday, August 30th, 2022 (1) Thursday, September 1, 2022 (2)
Time: 7-10 PM (Both)
Location: Tate Student Center (1), Ramsey Palooza (2)
Join Engagement, Leadership, and Service to explore student organizations and get connected to new engagement opportunities and events. The Engagement Fair at Tate will feature 175+ student organizations from a variety of categories like service and philanthropy, academic, faith-based, and social. The Engagement Fair at Ramsey Palooza will host students at Ramsey Student Center for numerous fun recreational activities and will also feature 175+ different student organizations from across campus including club sports and recreational student organizations. Both Engagement Fairs will include free t-shirts and food while supplies last.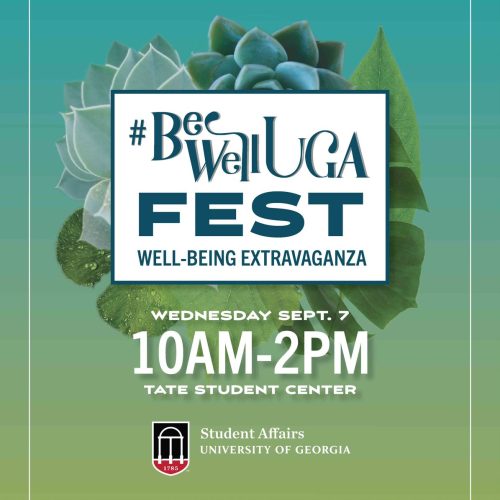 Date: Wednesday, September 7th, 2022
Time: 10 am – 2 pm
Location: Tate Student Center

Come by this pop-up expo of well-being offerings on campus on your way to class or in between classes. You will have the opportunity to connect with student groups, enjoy free fitness classes, check out well-being demonstrations and resources, pet some emotional support puppies, and enjoy free food!